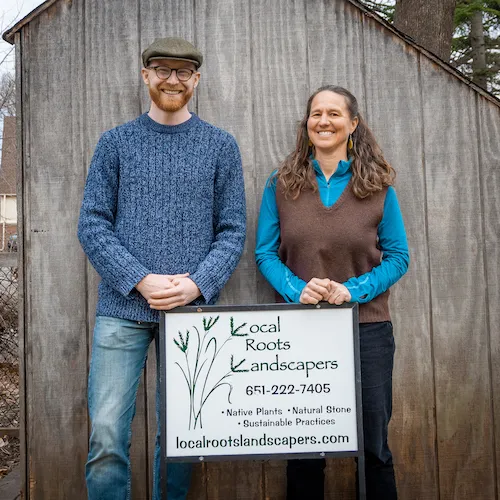 The seed of Local Roots Landscapers was planted early in the spring of 2003. A handful of landscapers began to talk about creating a more holistic landscaping business that combines the principles of worker cooperatives with the sustainable practices of native plant landscaping. By early April, Local Roots Landscapers incorporated as a Limited Liability Corporation (LLC) and, taking shovel in hand, began installing their first project.
Meredith Cooley, one of the original founders of Local Roots Landscapers, was at the helm until 2020, when she sold the business to Nathan Hecht, the current owner and operator.  Meredith and Nathan worked together for two years until the time was right to pass along the reigns.  While Meredith has embarked on a new career path, their collaboration and shared vision continues today.
Nathan has his roots in the Driftless Area, where he first fell in love with the local landscape and native ecology of the Midwest.  He has been steeped in sustainability and ecological thinking throughout his career path, with degrees in Biology (BA, '11) and Sustainable & Organic Horticulture (MS, '19).  His academic research focused on ecological management strategies to support beneficial insects, like native pollinators, in the agricultural landscape.  Between his degrees, Nathan was a Peace Corps volunteer in Peru, where he worked on projects related to native tree reforestation, agroforestry, and environmental education.  As an extension of his work with the Peace Corps in 2015, Nathan worked for The Mountain Institute on community-based climate change adaptation and biological water quality monitoring in the Andes.  He completed his Permaculture Design Certificate (PDC) in 2019, and continues to be a student of permaculture and ecological landscaping.  Nathan is dedicated to the artful creation and mindful caretaking of sustainable, diverse, ecological landscapes and brings this passion to the mission of Local Roots Landscapers.
Ecology

Sustainable & Organic Horticulture (M.S.)

Permaculture

Native pollinators & insect biodiversity
Native plants
Edible landscaping
Dry-laid natural stone
"I so appreciate all that you have done, and I look forward to seeing you next year!"
Kristy | Saint Paul, MN
"The Local Roots team designed the perfect plan for our yard. Their design was not only creative and beautiful, but also environmentally conscious, using all native plants, shrubs, and natural materials. The Local Roots staff are great to work with – professional, reliable, very nice people!"
Margaret | Roseville, MN
"Nathan gave great advice on what to plant for a sustainable, beautiful, and edible backyard!"
Jon | Saint Paul, MN